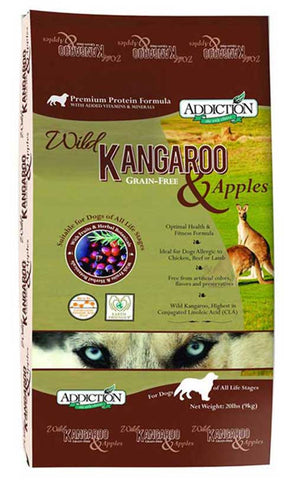 Addiction NZ Dog - Wild Kangaroo & Apples Grain Free Dog Food
Overview:
Wild kangaroo meat contains the highest levels of Conjugated Linoleic Acid (CLA) of any red meat. Wild kangaroo meat is also prized as a lean, high quality game meat with only 2% fat.This unique formula contains apples rich in antioxidants and pectin for vitality and digestive health.
Addiction's Wild Kangaroo & Apples ensures your dog receives a balanced, wellness-giving meal with an unbeatable flavor.
Ingredients:
Dried Kangaroo Meat, Potato, Tapioca, Peas, Chicken Fat, Apples, Blueberries, Cranberries, Papaya, Mango, Basil, Oregano, Rosemary, Thyme, Sunflower Seeds, Chamomile, Peppermint, Camelia, Natural Flavors, Vitamin E Supplement, Niacin (Vitamin B3), Calcium Panthothenate (Vitamin B5), Vitamin A Supplement, Thiamine Mononitrate (Vitamin B1), Riboflaven Supplemement, Pyridoxine Hydriochloride (Vitamin B6), Vitamin B12 Supplement, Vitamin D3 Supplement, Folic Acid (Vitamin B9), Sodium Chloride, Taurine, Choline Chloride, Magnesium Sulfate, Zinc Sulfate, Ferrous Sulfate, Calcium Carbonate, Copper Sulfate, Manganese Sulfate, Calcium Iodate, Cobalt Sulfate, Sodium Selenite, Rosemary Extract, Green Tea Extract, and Spearmint Extract.
Guaranteed Analysis:
Crude Protein (min) 22%
Crude Fiber (max) 6%
Crude Fat (min) 11%
Moisture (max) 10%
Learn More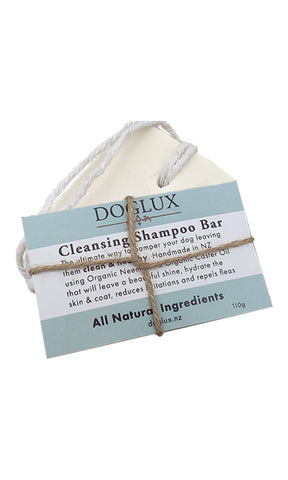 Handmade in NZ using Organic Neem Oil & Organic Caster Oil that will leave a beautiful shine, hydrate the skin & coat, reduces irritations and repels fleas
We use up-cycled compostable packaging preventing plastic pollution from single-use bottles and keeping the product cost-effective.


Directions: 
Using Doglux cleansing bar to wash your dog is much easier and less messy than using liquid soap. Rub the bar on your dog's wet coat to make a rich, creamy lather. Massage the shampoo deep into your dog's coat and rinse thoroughly. Rub your dog down with a clean, dry towel. When finished store in a cool and dry place.
The soap fits in the palm of your hand for easier use

Products with essential oils should not be used on cats
Avoid contact with eyes, discontinue use if your dog experiences irritation
Featured Ingredients:
- Organic Castor Oil penetrates dense coarse fur
- Organic Neem Oil treats skin disorders and repels bugs 
- Organic Lavender, Reduces anxiety, supports tissue regeration, 
anti-inflammatory properties and is beneficial for sensitive skin. 
- Organic Essential Oils are specifically chosen to help repel fleas and ticks and reduce pet odor 
Ingredients:
Organic Olive Oil, Organic Neem Oil, Organic Coconut Oil, Organic Rapeseed Oil, Organic Castor Oil, Sodium hydroxide, All essential Oils used are Certified Pure Therapeutic Grade, Organic Lavender Oil, Organic Peppermint Oil, Organic Rosemary Oil, Organic Roman Chamomile Oil, Organic Eucaliptas Oil, Organic Cedar Wood Oil, Cleansing Blend Oil (Organic Lemon Oil, Organic Lime Oil, Organic Siberian Fir Oil, Organic Citronella Oil, Organic Tea Tree Oil, Organic Cilantro Oil) 
Learn More